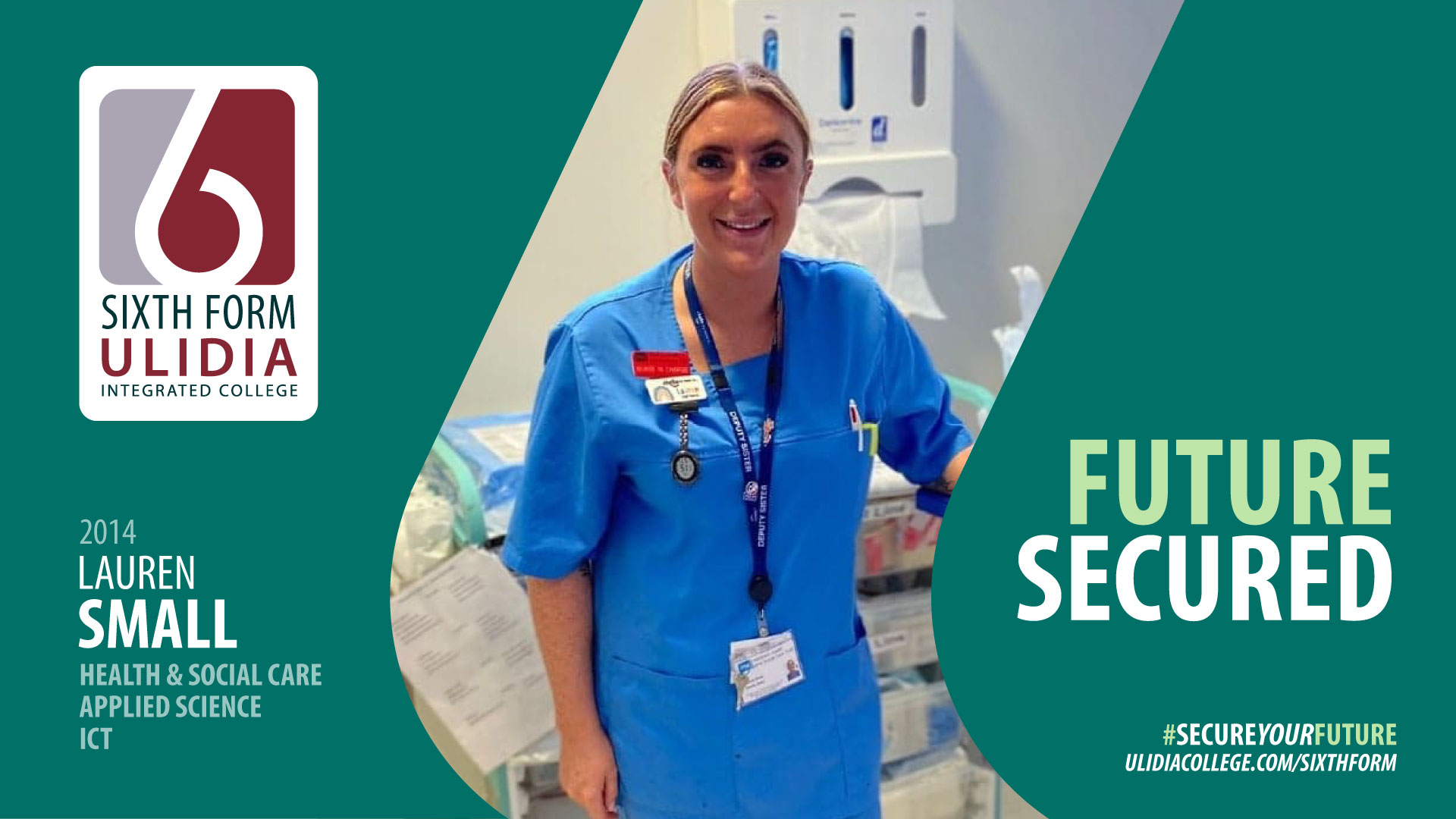 14 Jul

Lauren Small – Future Secured
Ulidia Integrated College Sixth Form – Securing Brighter and Better Futures for All
Name: Lauren Small
Year Left: 2014
Subjects: Health & Social Care, Applied Science, ICT
Occupation: Currently, I work at Antrim Area Hospital in the Emergency Department as a Band 6 Clinical Sister.
Pathway to Success:
During my time at Ulidia I was a mentor and senior prefect, progressing through to Deputy Head Girl. Despite several university offers, I failed to get into my desired university, so I decided to take a gap year. During this time, I gained invaluable experience within a healthcare setting; working in a nursing home and becoming a dementia champion and volunteer with the Alzheimer's Society. In hindsight, one of the best decisions I have ever made. Ulidia supported me in the completion of my second UCAS application and I received 5 unconditional offers from universities, including Liverpool John Moore's University, which I accepted. In 2015 I enrolled in Adult Nursing at Liverpool John Moore's University. Graduating 3 years later with a First Class Honours Degree, BSc (Hons) Adult Nursing and returning to Northern Ireland to commence my role as a Band 5 Staff Nurse.
Best memories of Ulidia:
During my time in Sixth Form I matured and developed into a young adult and gained lifelong friends. The year group became a smaller network and there was a greater rapport with the teaching staff, who promoted a happy, caring, learning environment centred on the students, making it feel like a close integrated family.  The experiences no doubt helped to improve my self-worth and confidence, for which I am extremely grateful.
Why study at Ulidia for Sixth Form:
Ulidia is a vibrant, forward thinking learning community, where self-worth and mutual respect are highly valued. Sixth Form at Ulidia offers a wide range of academic and vocational subjects. Every student is equally valued and encouraged to reach their full academic potential and develop their skills and talent. It is a school that provides a caring, strong supportive network that goes above and beyond to understand student needs and encourage independence and the optimisation of goals. 
Why do you think students should follow a Health and Social Care based pathway?
A career in Health and Social Care offers you a long-term opportunity in employment with a high level of job satisfaction. You have the opportunity to care for and make a difference to people's lives, which can be very rewarding. 
On a day-to-day basis we observe, listen and communicate. Studying Health and Social Care teaches you important skills such as effective communication, logical thinking, organisation, decision-making. These are lifelong skills that not only will benefit you in a health care setting but will assist you to become an effective leader and succeed in all career pathways.
Aspirations for the Future:
My goal is to become an Advanced Emergency Nurse Practitioner, which requires me to further develop my nursing skills/knowledge and return to university to further study!  But in the meantime, I hope to live and enjoy a happy and healthy life, continuing to help others and make an impact on their lives, enabling them to go from strength to strength. Most importantly, I want to make a difference to the lives of others.
Interested in Sixth Form?
With both Academic and Vocational pathways you can secure YOUR future at Ulidia Integrated College Sixth Form