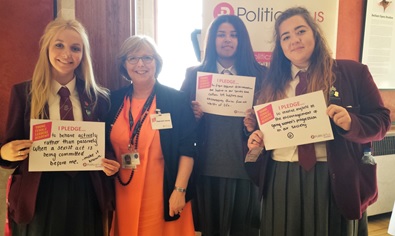 02 Nov

Students Attend The Young Female Leaders Academy in Stormont

15 students from Year 13 and 14 went to Stormont to attend the Young Female Leaders Academy on 22nd October. The event was organised by Politics Plus to encourage the participation of young women in Politics and leadership roles and to consider the current obstacles to gender equality, especially in politics.

During the day, our young students listened to inspirational women such as Mairead Healy from Future Voices Ireland, who dedicates her life to helping young people break social barriers to achieve a rewarding life. Leah McStravick provided an outline of what great leaders are made of and encouraged all present young women to nurture these qualities. Ivana Bacik inspired us all to always want more and tackle gender inequalities.

All young women were asked to prepare and deliver a brief for a Private Members' Bill they would like to introduce. To prepare the Bills, Ulidia students were lucky to be working with Martina Hanna, Head of Gender Equality and Sexual Orientation Policy, as well as Emma Pengelly and Trevor Lunn.

To close the day, all young women were asked to write a pledge to promote gender equality in their life.

It was a fantastic day for everyone, a day which sows the seeds for social change in many young women's head and heart.

"Today has been an absolute pleasure and an amazing opportunity that I have been provided with. I feel that it has inspired me as a woman to further my abilities and to involve myself in the encouragement of young women's progression in our society." Niamh.

"Mairead Healy's story truly inspired me and is something I will think of now and in future decisions that may add to society in some way. It was an insightful and interesting day." Sarah.