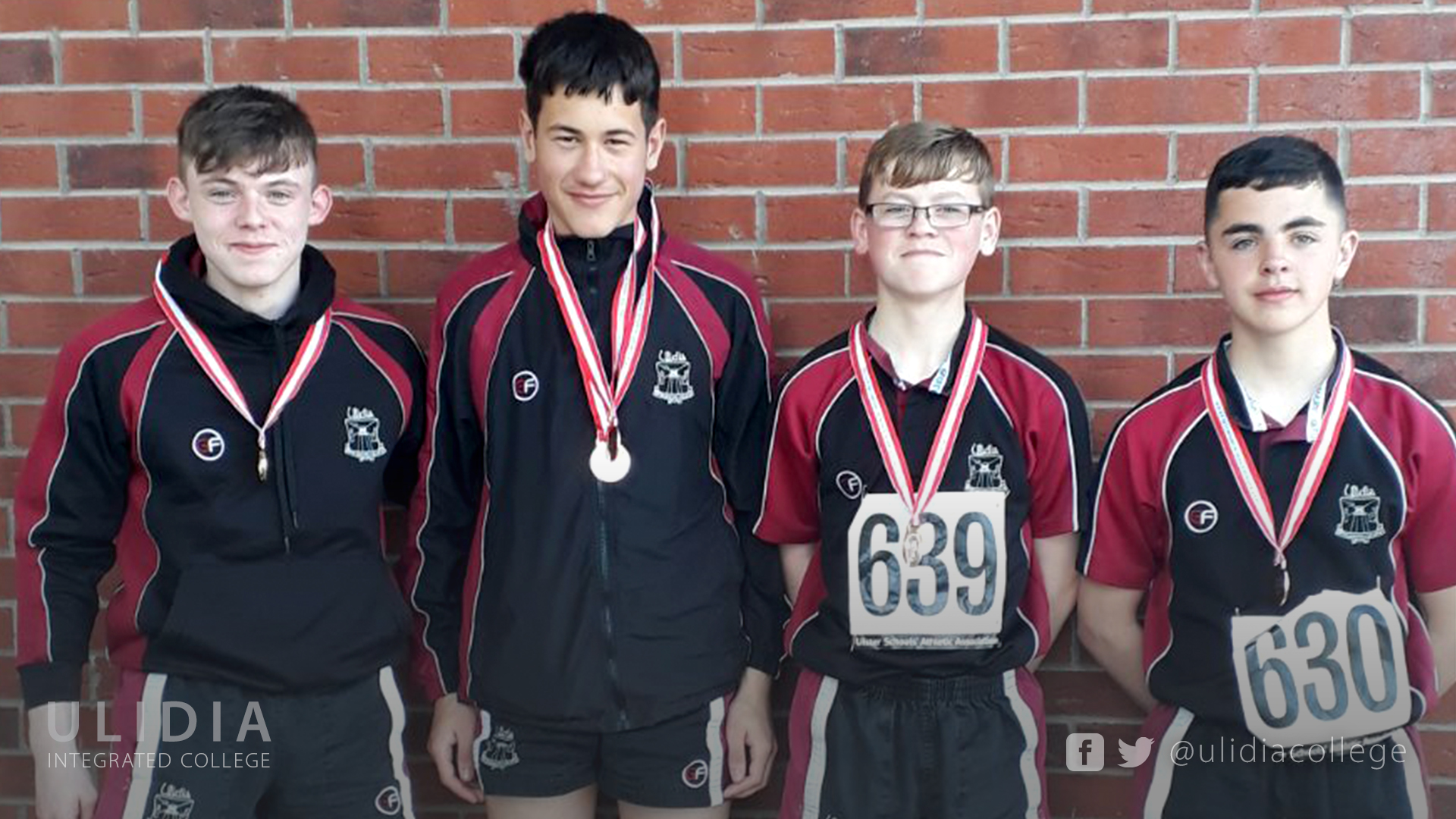 11 May

Ulster Schools Districts Athletics Competition

The annual Ulster Secondary Schools Districts Athletics competition took place on Tuesday 8th May at Antrim Forum. Ulidia Integrated College were well represented, with 15 athletes from Year 8 and Year 9 competing against athletes from other schools across the province.

On the track, Year 8 were represented in the 100m by Erin and Aimee who finished 4th and 7th respectively in their heats. Erin and Aimee were joined by Izzy and Leah for the Mini Girls 4x100m relay, were they placed 5th.
The Year 8 boys dominated the 100m, with Keith placing 4th and Callum finishing in 1st place. Congratulations to Callum who has qualified for the Ulster Schools 100m finals.

Aimee and Alicia represented Year 8 in the 800m race, placing 7th and 10th respectively.

For the field events, Izzy competed in the Mini Girls long jump and achieved a personal best of 2.8m, while Zoe Ross jumped a personal best of 2.7m. Nathan and Keith competed in the Mini Boys shot putt, throwing over 7m combined and Keith finishing in 4th place overall.

Congratulations to Alicia, who jumped 1.31m in the high jump to secure 2nd place and qualification for the Ulster Schools finals in the next few weeks.

Year 9 were represented on the track by Erin, Michael and Wiktor who competed in the 100m sprint. Michael finished overall 2nd and Wiktor finished overall 3rd meaning both qualify for the Ulster Schools 100m finals.
Both Wallace and Reef competed for Ulidia in the Minor Boys 800m. Wallace, Reef, Michael and Wiktor also competed in the 4x100m relay and placed 3rd to earn a place in the Ulster Schools finals.

Ulidia were represented in the Minor Boys long jump by Wallace and Michael, who both jumped over 4.5m! Michael jumped a personal best of 4.91m which resulted in 2nd place overall and qualification for the Ulster Schools finals.
Both Reef and Wiktor competed in the Minor Boys high jump. Meanwhile, Bella threw over 6m in the Minor Girls Shot Putt!

Congratulations to all our athletes for their fantastic efforts and good luck to Callum, Alicia, Michael, Wiktor, Wallace and Reef in the Ulster finals!