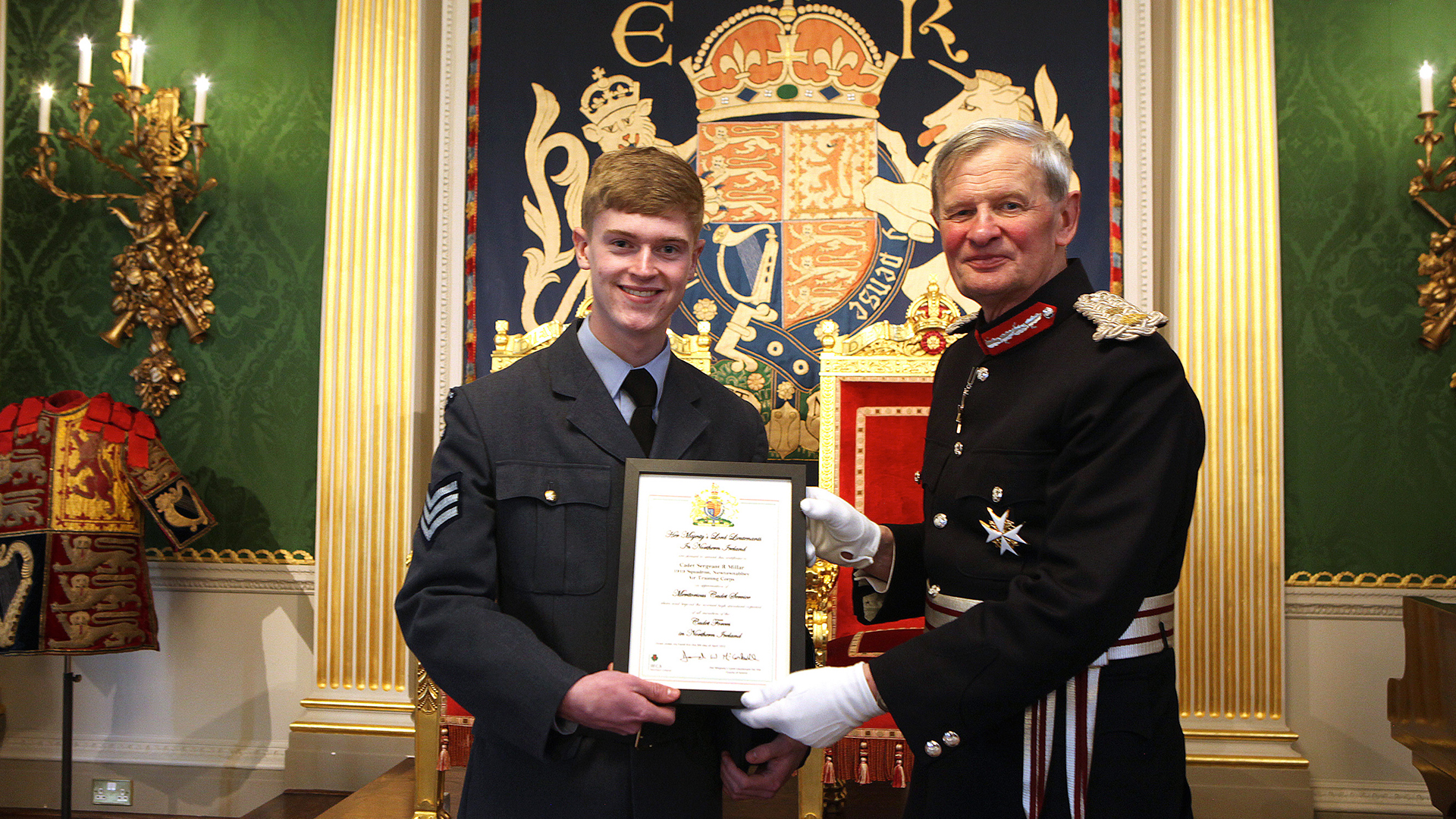 11 May

Hillsborough Honours for Ulidia IC Student Rhys

High-flying Rhys Millar has been honoured at a formal ceremony at Hillsborough Castle. 

Pictured here at the Hillsborough Castle ceremony Cadet Sergeant Rhys Millar from Carrickfergus receives the Citation to mark his appointment as Her Majesty's Lord Lieutenant's Cadet from Mr David McCorkell, Her Majesty's Lord Lieutenant for County Antrim.

Rhys, an enthusiastic and accomplished Cadet Sergeant with the 1919 (Newtownabbey) Squadron Royal Air Force Cadets, was appointed to serve as Her Majesty's Lord Lieutenant's Cadet for the County of Antrim for the coming year. The 16-year-old Ulidia Integrated College student will become one of eleven Lord Lieutenants' Cadets in Northern Ireland, taking on a largely ceremonial role, attending David McCorkell, Her Majesty's Lord Lieutenant for the County of Antrim, on major civic occasions. In recognition of the award Rhys will wear a special insignia on his uniform throughout his year in office.

In the Citation which accompanies his award, Rhys is described as 'a hard-working Cadet, respected by his peers and adult instructors alike' and commends Rhys for demonstrating 'a maturity beyond his years'.

Despite the pandemic restrictions of the past two years, Rhys has not only successfully progressed through the Cadet training syllabus, but has also encouraged and supported others to do so. Highly motivated and well disciplined, he has successfully completed leadership courses, has become a qualified First Aider and has been selected to represent Northern Ireland in Cross Country. Rhys is also currently Junior Captain at Whitehead Golf Club.

This is a phenomenal achievement and we are delighted for him. Well done, Rhys!