Gordons Jeanery ltd. 10a Green Street, Carrickfergus, BT38 7DT
Message from Gordon's:
Both Gordon's in Carrick & The Jeanery, Glengormley will reopen on Friday June 12th at 9.30am.
We are totally Covid-19 compliant in both shops. We feel we don't need to think of an appointment system just yet. The complexities are enormous so we will list a few things that might be helpful.
Current legislation states we cannot allow your child to fit on. However we have staff who can size very quickly and accurately and if you need to exchange sizes we will be arranging a late night for that purpose. 
If you are sure of your sizes we can have your order ready for collection. You may phone on our land lines. You will just notify the staff member at the door when you arrive. 
It will be very difficult to put uniforms over with a deposit so please do your best to purchase and pay. Obviously we will do our best to help you plan. 
Please have your list of requirements ready and only bring the child or children who are being kitted out. 
If you have a child with special needs please call us and we will do everything we can to help. If you can bring the measurements of last year's jumper we can work from that. 
Usual 10% discount during June & July on everything except honours blazers. 
Cuddy's 18-20 Market Place, Carrickfergus, BT38 7AW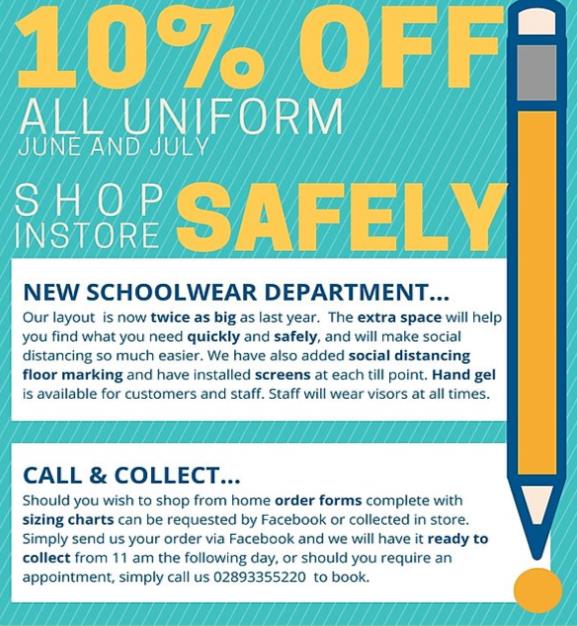 Ulidia Integrated College Previously Owned Uniforms 
In order to support families who may wish to purchase previously owned but gently cared for uniform items, we keep a good stock in the College. If you would like to avail of this service, please email us on info@ulidiacollege.com to make an appointment.