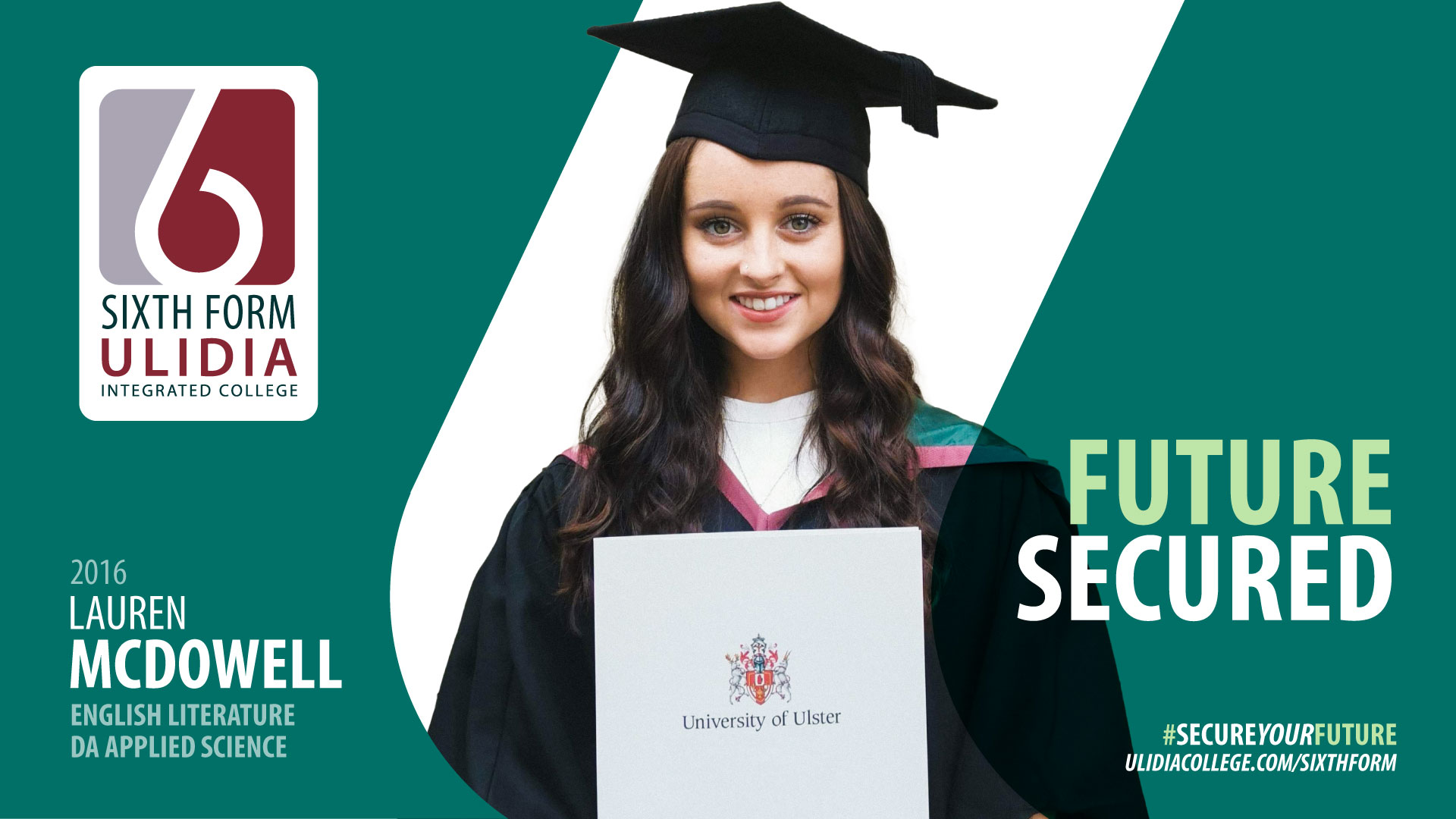 07 Jul

Lauren McDowell – Future Secured
Ulidia Integrated College Sixth Form – Securing Brighter and Better Futures for All
Name: Lauren McDowell
Year Left: 2016
Subjects: English Literature & Double Award Applied Science
Occupation: I am currently studying at the Institute of Professional Legal Studies at Queen's University in order to complete my qualification to become a barrister 
Pathway to Success:
I completed my law degree with a First Class Honours at Ulster University in July 2019. After completing my degree, I obtained a job as a paralegal at a Belfast Law Firm, I worked there for two years in order to gain some practical experience before going back to University to complete my post-graduate studies. I hope to complete my post-graduate degree at the end of June 2022.
Best memories in Ulidia?
I thoroughly enjoyed my time at Ulidia, some of my best memories at Ulidia include the Ski trip in 2012, this was a fantastic trip filled with lots of amazing memories. I also have great memories from taking part and competing in extra-curricular activities including, hockey, basketball, netball, football and debating. I also have very fond memories from sixth form, I really enjoyed my role as Head Mentor and have great memories of organising fun activities as well as helping younger students at SPLAT club. 
Why do I think students should study at Ulidia, particularly sixth form?
I would highly recommend studying at Ulidia, it is a fantastic school that welcomes every pupil and encourages them to reach their full potential. In particular, I wound encourage students to attend Ulidia for sixth form, Ulidia offers a wide range of A-level subjects including the opportunity to study a subject offered at different schools through the Carrick Learning Community. Students in sixth form are given great responsibility and opportunities which develop key skills in order to achieve future career goals. All the staff at Ulidia are very encouraging and will go above and beyond to assist students in reaching their goals. 
Why do you think students should follow a Law based pathway?
I would encourage students to consider studying law at University, a degree in law does not necessarily mean you want to become a solicitor or barrister but a degree in law opens many doors for students with endless possibilities of career paths. You are also not required to study specific A-levels in order to study Law at University so it is a great option for any students who are still unsure of what they wish to do in the future.
Aspirations for the Future?
I hope to graduate from Queen's in June of this year. I will then undertake a pupillage before becoming fully qualified as a barrister, hopefully by March 2023. I would like to undertake work in the Family and Criminal Courts and build on my reputation in the coming years. In the future, if opportunities allow, I may wish to become a Judge or QC.
Interested in Sixth Form?
With both Academic and Vocational pathways you can secure YOUR future at Ulidia Integrated College Sixth Form